Tuesday, June 11, 2019 @ 09:06 PM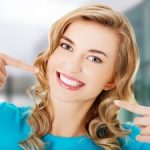 White teeth project health, beauty and youth. Since everyday eating habits can make it difficult to keep your smile free of stains and discoloration, it is understandable why professional teeth whitening is the most popular cosmetic dental service. While most patients make good candidates for teeth whitening, it is important that you know what to expect if you have fake teeth or dental restorations.
When it comes to crowns, veneers, dental implants and bridges, the timing and order of your teeth whitening becomes important. For best results and a seamless smile, whiten your natural teeth before getting dental restorations if possible. Even though modern dental materials are a close replica to natural teeth, they do not always respond to teeth whitening the same way that your real teeth do. Various dental materials, such as porcelain or ceramic, may not only fail to whiten, but they may also become damaged by a professional whitening treatment. This is especially true if your dental restoration is old, leaky or surrounded by decay.