Monday, December 10, 2018 @ 02:12 PM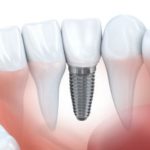 There is no doubt that natural teeth are remarkably strong. Not only are they made from the strongest substance in your entire body, but they are designed to perform a lifetime of tasks such as chewing hard foods and supporting the structure of your jawbone. Still, teeth get damaged, diseased and go missing from time to time.
If you have a missing tooth, you may be wondering if a replacement tooth will ever offer the strength and durability that your natural tooth once provided? Thanks to the advancements of modern restorative dentistry, the answer is yes! Dental implants make it possible to have a prosthetic tooth that matches the strength of a real tooth.