Tuesday, March 28, 2017 @ 03:03 PM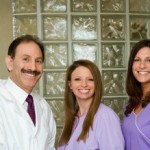 Getting dental implants is nothing like it was a few decades ago. Modern technology and surgical processes have made it to where most dental implant treatments can last for the rest of a person's life. The artificial tooth roots are that strong.
#1 — Replace as Few or as Many Teeth as Necessary
Implants are capable of supporting far more weight than your natural teeth. We can use as few as four or six implants to support a denture or extended bridge, replacing all of your teeth in that arch with a single prosthesis. Or, you can opt for a single implant to support an individual crown for just one missing tooth.