Thursday, September 21, 2017 @ 01:09 PM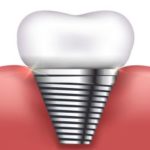 There are times when your smile needs help from two different dental specialists, an orthodontist and an implants dentist. Such patients may find that they have crooked, gapped or misaligned teeth as well as one or more missing teeth. Undergoing orthodontic treatment and getting a dental implant are both complex procedures. If you find yourself in need of both, it is common to ask, "which one first?".
It is generally recommended that patients complete all of their orthodontic treatment before getting a dental implant. The premise for this order is based on the fact that dental implants don't move like natural teeth. Orthodontics are designed to shift or move your teeth into their ideal position to create better spacing and harmony within your bite. However, once dental implants are implanted and fuse to the jawbone, they do not budge. Therefore, a dental implant before orthodontics could compromise ideal treatment goals.