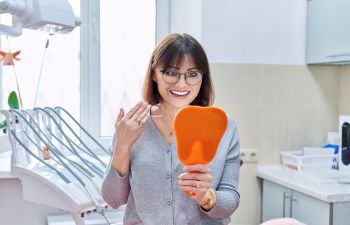 If you are weighing your options for replacing multiple missing teeth, you are likely considering the difference between dentures and dental implants. Before you let the cost variance scare you away, it is important that you understand the invaluable benefits that dental implants can offer for your smile and for your quality of life.
Dental implants are now considered the "gold standard" in tooth replacement. They include a prosthetic screw made of strong titanium that is placed in the jawbone to take the place of missing tooth roots. Once the implants have been allowed to heal, the screws fuse to the bone and become securely anchored into place. Next, prosthetic teeth can then be attached to the implants to take the place of one tooth or multiple missing teeth. You may choose to have an implant-supported bridge or a restorative crown placed on top of your implant, depending on your situation. Dental implants are designed to be a permanent tooth replacement option, and they offer the following profound benefits over dentures:
More Natural

Dental implants are known for how much they look, feel and function like natural teeth. Your dental implant restoration will be customized in shape, color and size to match your existing teeth. Most patients do not feel as though they have prosthetic teeth at all, unlike the clicking, popping or slipping that often occurs with dentures. A smile that feels secure and looks natural results in a more confident lifestyle.

More Functional

Dental implants are not restrictive in their function. While denture patients tend to avoid fiber-rich foods that are more difficult to chew, dental implants allow patients to eat a well-balanced and unrestricted diet. This provides immeasurable benefits for your long-term health and well-being.

More Convenient

If you choose dental implants, you will not have to hassle with messy denture creams or the responsibility of taking your prosthetic teeth out to clean them each day. Dental implants are a permanent solution that requires no more maintenance than your natural teeth. Many patients consider this convenience advantage as reason enough to invest in dental implants.
Dr. Wayne Suway welcomes Marietta patients who have missing teeth. We can further discuss the benefits of dental implants and determine if they are the best tooth replacement option for you. Your smile is worth investing in!