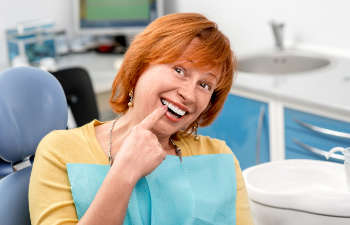 There are times when a natural tooth simply cannot be saved. This can involve cases of severe decay, extensive tooth injury or advanced gum disease. Fortunately, there are many ways to replace missing teeth so that others never know you that you don't have all of your natural teeth. Dental implants are the most top-ranked solution.
If you've been told you need to have a damaged tooth removed, you may be wondering how long you'll be without your replacement solution. In other words, do you have to walk around with a gapped smile until your dental implant surgery is scheduled? When choosing a modern implant dentist like Dr. Wayne Suway, you don't have to worry about being without your teeth. Our Marietta office proudly offers same day teeth solutions for situations just like this.
Damaged Tooth Removal With Same Day Teeth
When it comes to removing a damaged tooth, we can complete the extraction and give you a prosthetic replacement in the very same visit! With advanced imaging and the latest technology available, your tooth can be removed gently and conservatively, with the least amount of damage to surrounding tissues and bone. A diseased or decayed tooth can threaten adjacent teeth. Therefore, if you are experiencing pain, swelling or discoloration on one or more of your teeth, it is important that you have it evaluated promptly.
It is common for patients to want or need a tooth replacement option immediately following their tooth removal, especially if the missing tooth (or teeth) is located in a visible area of their smile or in a place that is critical for chewing. In such cases, Dr. Wayne Suway can discuss your options for immediate dentures. This can instantly restore your smile and hold the place for your permanent partial or denture. We offer same day implant dentures for the most superior smile replacement solution!
Call our dental clinic today to learn more about same day teeth in Marietta! We value the importance of a confident smile.