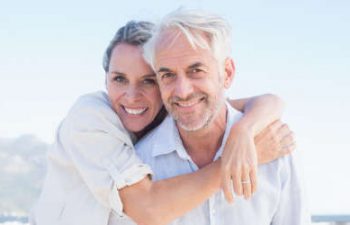 If you are looking for the most secure, long-lasting and natural way to replace missing teeth, dental implants are undoubtedly the answer. Why are dental implants considered the gold standard in tooth replacement? We are happy to tell you at the office of Dr. Wayne Suway.
On the outside, dental implants simply replace permanent teeth that have been lost or extracted. They "fill in" the gaps of your smile. However, dental implants offer so much more, including ways they can improve your everyday well-being and boost your quality of life. When choosing implant dentistry as your restorative solution, you can benefit from the following:
Permanently replace one or more missing teeth without affecting adjacent teeth.
Resolve joint pain or bite problems caused by adjacent teeth shifting
Restore a smile confidence
Restore chewing, speech and digestion
Restore or enhance facial tissues
Regain security and confidence in social situations
Support a bridge or denture, making it more secure and comfortable
The Value of Complete Implant Dentistry
Dr. Wayne Suway proudly offers complete implant dentistry. This means that we are able to provide both implant placement and implant restoration here in our office. We believe that this not only gives patients more convenience, but it also ensures they receive the most accurate and streamlined care possible.
The advantages of dental implants are highlighted by their unique ability to replace the missing tooth root. The implant, which is made from durable and biocompatible titanium, is inserted into the jawbone to act as an artificial tooth root. Not only does this provide the most secure function for a crown, dental bridge or denture, but it also gives the jawbone the natural stimulation it needs to retain its density and structure. Without a tooth root, your jawbone can atrophy and premature facial aging can occur.
After the titanium screw or implant has healed and fused to the jawbone, an implant restoration (dental crown) can be placed on top. In certain cases, the implant can be placed at the same time a tooth is extracted. Patients who have multiple missing teeth may choose an implant-supported denture or bridge.
To learn more about the extensive benefits of dental implants, please schedule a consultation with us in Marietta. We look forward to creating the beautiful and confident smile you deserve after missing teeth.