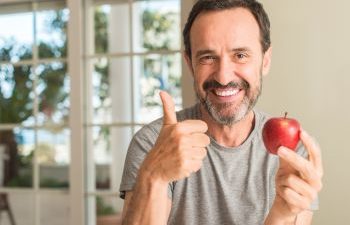 Most people are familiar with false teeth such as dentures that are held in place by adhesive cream. These prosthetic teeth are intended to stay in place during everyday dental function, but they can be removed by the patient at will, and they don't always remain secure during eating or laughing. If you'd prefer not to worry about your replacement teeth shifting or coming out without warning, we recommend dental implants.
Dental implants offer the remarkable advantage of staying in place just like your natural teeth. In fact, many patients feel that their implant teeth feel just as stable and strong as the teeth they were born with. What gives dental implants the ability to "stand their ground" despite the foods you eat or how hard you laugh? The answer is in the bone's natural fusion process.
What is Osseointegration?
Dental implants consist of small titanium posts that are surgically inserted into the jawbone. Each implant is fabricated with special grooves (like a screw) that help the implants embed themselves into the bone. However, this isn't the magic key to an implant's remarkable stability. Instead, it is what happens next.
In the following months after implant surgery, the biocompatible posts will begin to fuse to your jawbone during a natural process called osseointegration. This bonding between the titanium post and your jawbone allows a dental implant to have an anchor just like a natural tooth root. Once osseointegration has taken place and healing is complete, an implant restoration (crown or denture) can be attached on top. Don't worry; dental implants carry 98% success rate of properly fusing to the bone, which means your implant has a very high chance of remaining secure for a lifetime!
What If There is Not Enough Bone?
While the material and surgical technique of a dental implant plays a primary role in establishing its stability, there is another major criteria that must be met on behalf of the patient. Your jaw bone needs to have adequate density and strength to surround the implant post and participate in osseointegration. Unfortunately, tooth loss is a common contributor to bone loss. If you've waited too long to get your dental implants after missing teeth, you may need a bone grafting procedure before you can qualify. In some cases, your dentist can use an advanced implant that require less bone structure and can be placed at an angle within your jaw. These are typically used in full mouth restorations.
Do you trust your prosthetic teeth to stay in place? At the office of Dr. Wayne Suway, we specialize in implant dentistry because we believe the stability of your smile should never be something you question. Call our Marietta office today to learn more about the unique benefits of dental implants compared to traditional dentures.