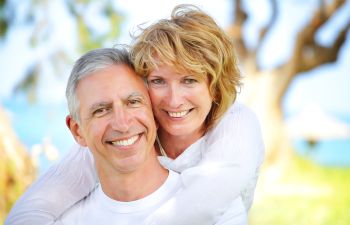 According to Wikipedia, restorative dentistry is defined as "the study, diagnosis and integrated management of diseases of the teeth and their supporting structures and the rehabilitation of the dentition to functional and aesthetic requirements of the individual." To put it more simply, "restorative dentistry" is the term dental professionals use to explain how they replace missing or damaged teeth. Restorative dentistry is one of several facets of dental care, which can include cosmetic dentistry, pediatric dentistry and general dentistry.
While general dentistry is highly encouraged and cosmetic dentistry is optional, restorative dentistry is critical. A full set of teeth is a vital part of your physical and emotional well-being. When you lose teeth, your health can be compromised, and your confidence may be lessened, impacting your quality of life. Restorative dentistry can give you more than just your teeth back, it can help restore your health and self-confidence.
There are several options for replacing lost teeth, whether you have one missing tooth or need a full-mouth replacement. Restorative services can include:
Dentures (traditional/removable)
Implanted-Supported Dentures
Partials
Dental Implants
Implant Restorations (crowns, bridges)
Our goal is to ensure all our patients have the advantages of a complete set of teeth, even if those teeth are prosthetic teeth. At the office of Dr. Wayne Suway, we help patients understand that options like dental implants can function and appear most like natural teeth, giving you the freedom to enjoy the foods you love and the confidence to dazzle the world with your renewed smile. Dental implants are an excellent choice for those who have lost a few teeth, or even for those who need a complete mouth restoration.
Importance of Complete Dental Restorations
Everyone deserves to have a complete smile at every phase of their life. It is an important part of your appearance and self-esteem, as well as vital for your speech and nutrition. Missing teeth that are not replaced can also lead to bone loss in your jaw over time, something that only dental implants can prevent.
If you've lost one or more permanent teeth and would like to explore your restorative dentistry options in Marietta, schedule a consultation with Dr. Wayne Suway. Regardless of why you've had to part with your natural teeth, we are confident we can rebuild your smile the way you deserve.