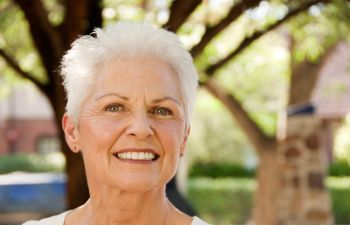 If you need to replace teeth that are missing or damaged, you have more than one option. However, when it comes to the solution of dental implants, you've probably heard words like "gold standard" or "superior." But what makes dental implants so much better than dentures, partials and bridges? Here are the top ten benefits of implant dentistry:
#1 Prevents Bone Loss
Dental implants give your jawbone the stimulation it needs to retain its mass and prevent the progressive bone loss that happens after missing teeth.
#2 Blends in With Your Natural Teeth
Dental implants can be customized in shape, size and color to match your existing teeth.
#3 Restores Bite Force
Since dental implants are anchored into your jaw like a real tooth root, you can regain the same bite force you had with your natural teeth.
#4 Prevents Changes in Facial Shape
With their ability to prevent jawbone loss as well as replace missing teeth, dental implants can prevent unwanted changes in the shape of your lower face that often make you look older.
#5 Enables Natural Speech
Unlike many ill-fitting dentures or partials, dental implants won't cause you to pronounce words differently or alter your natural speech.
#6 Resistant to Cavities
Artificial teeth still need daily cleaning, but you won't have to worry about your dental implant restorations getting decay or disease.
#7 Easy to Care For
Dental implants can be cleaned and maintained just like real teeth.
#8 No Embarrassing Slippage
Dental implants help you avoid a compromised quality of life that makes you uncomfortable to eat, speak or laugh out of fear that your false teeth will slip or fall out. Dental implants won't shift with these everyday actions.
#9 Supports Adjacent Teeth
A gap in your smile from a missing tooth can cause the teeth on either side to shift or migrate towards the open space over time. Dental implants fill the gap and prevent misalignment.  
#10 A Permanent Solution to Tooth Loss
Other tooth replacement options will need to be repaired or replaced periodically, but dental implants are designed to last a lifetime!
Ready to start taking advantages of these amazing benefits for yourself? Call Dr. Wayne Suway, one of Marietta's most trusted implant dentists.