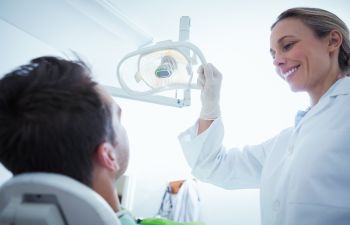 If you have missing teeth, dental implants are considered the premier solution. Dental implants allow patients to regain confident chewing power and an attractive smile while also preventing jaw bone loss and unwanted facial sagging. While most healthy individuals with adequate jaw bone density qualify for dental implants, patients who smoke are not so easily accepted for implant dentistry. In fact, smoking with dental implants can impede the initial success of the implant as well as its long-term survival.
The Link Between Smoking and Oral Health
It is no surprise that smoking can have detrimental effects on your overall health, including cancer, heart disease, stroke, low birth weight, pneumonia and atherosclerosis. However, you shouldn't dismiss the direct threats smoking can also have on your mouth. Not only can the inhalation of smoke burn the tissues inside your mouth, but it can also lead to dry mouth, bad breath, tooth stains and an increased chance for gum disease.
Smoking and Dental Implants
If you are a smoker and want to replace missing teeth with dental implants, you are not necessarily disqualified. However, there are important factors to consider. First, you'll need bone grafting if your smoking habit has caused advanced gum disease with jaw bone loss. In addition, you'll need to be willing to kick your habit going forward.
Dental implants rely on the critical process of healing between bone and implant after they are placed. Osseointegration occurs in the subsequent months after your implant surgery and involves the titanium post fusing to your underlying jaw bone to form an artificial tooth root for your prosthetic tooth or teeth. This is a healing process that needs optimal support from your tissues, blood and immune system. Since nicotine is a vasoconstrictor, cigarette smoking can greatly impede this healing stage and render your implants as unsuccessful.
Researchers have also found that smokers face a greater risk of infection after the implant surgery. This can include disruptive and serious symptoms such as:
Bleeding around the implant
Difficulty chewing
Pus discharge around the artificial tooth
Red or puffy gums
If you're a smoker and desire dental implants, contact Dr. Wayne Suway to schedule a consult. We can explain the specific risks of smoking and implant dentistry as well as help you get started on a plan to help you quit your habit and regain a healthy smile.