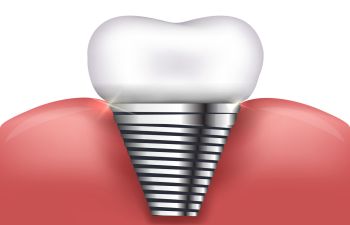 Dental implants are considered one of the most life-changing investments you can make for your smile and well-being. If you are replacing teeth with implant dentistry, however, it is best to do some research before you select a dentist for the job. This involves making sure your implant dentist brings trusted experience and knowledge in this dental specialty. An easy way to do this is to choose a dentist who is credentialed by the American Academy of Implant Dentistry (AAID).
The AAID is the first professional organization in the world dedicated to the advancement of implant dentistry. They have been training dentists in this niche field of restorative dentistry for nearly 70 years.
Patients can trust that AAID dentist has undergone extensive education, training and experience to ensure your dental implant surgery is successful. To earn this credential, a dentist must meet a rigorous set of educational and training requirements that include completing hundreds of hours of specialized education in implant dentistry and passing in-depth written and oral exams. This means your dentist brings additional years of schooling and hands-on experience compared to a general dentist.
Membership and involvement in the AAID confirms that a dentist is committed to their field of work. It is a respected credential in the eyes of both patients and peers, as it shows they have investments the time and energy required to take their professional credibility to the next level.
Finally, AAID-credentialed dentists are more qualified to provide the level of treatment you need. Dental implants aren't always straight forward. In fact, they can be quite complex and rely on sophisticated devices and advanced technology. An AAID dentist understands the specific needs of each patient and can adjust the treatment plan accordingly.
Dental implants require a notable investment of your time and money. Therefore, it only makes sense that you'd want (and need) the best. If you live near Marietta, you'll be glad to know that you have a AAID-credentialed dentist right next door.
Meet Dr. Wayne Suway in Marietta
Dr. Wayne Suway is a proud Associate Fellow of the American Academy of Implant Dentistry and a Diplomate of the International Congress of Oral Implantology. He has provided exceptional dental care in the Marietta and Atlanta area for more than 30 years and carries a 100% satisfaction rating from his patients. To learn more about getting dental implants from Dr. Suway, call our Marietta office today.