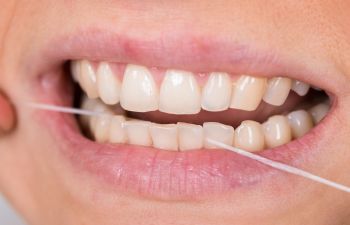 Dental implants represent a superior solution to replacing missing teeth. Whether you have a single dental implant with a crown or a full set of implant-supported dentures, this method of restorative dentistry allows you to regain the form, function and health of the natural teeth you once had.
While dental implants themselves can last a lifetime, the crown, bridge, denture or other restoration on top will eventually need replacement. It is possible, however, for the prosthetic tooth or teeth to last a decade or more. To maximize or prolong your tooth replacement investment, it is important to care for your dental implants properly.
For the most part, caring for dental implants is similar to caring for natural teeth. It is important to brush your replacement teeth twice a day, visit your dentist on a regular basis and avoid bad oral habits. Flossing, however, can be a tricky matter when it comes to dental implants.
The Best Flossing Technique for Dental Implants
Flossing around a natural tooth can be done more forcefully than a dental implant. With healthy natural teeth, the periodontal ligament that attaches your gums to your teeth is quite strong. Therefore, you can push the floss into the gum pocket without causing damage. This ligament also contains nerves to signal pain if you protrude too deeply.
Dental implants are different. The gums around an implant are not attached with a periodontal ligament like a natural tooth. Instead, a "peri-implant seal" adheres the implant to the gums. Unfortunately, this is a much weaker attachment and one that does not contain nerves to guide your pressure. If the peri-implant seal becomes damaged or broken, bacteria can enter the deep pockets of gum and access the underlying bone. When this occurs, the success of your dental implant is at risk since the fusion of the implant to your jawbone is critical. Therefore, gentle and strategic technique should be used if you floss with dental implants. While you'll need to keep food debris from collecting around and between your dental implants, it is important that the peri-implant seal stays intact.
Cleaning Tips from a Certified Implant Dentist in Marietta
Not sure if you are caring for your dental implants correctly? Always talk to your implant dentist. At the office of Dr. Wayne Suway, we welcome the opportunity to educate our patients about how proper cleaning methods can protect and prolong the success of dental implants. Call our Marietta office today to learn more.