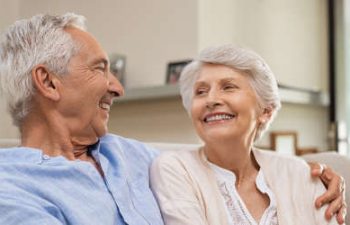 If you have several decayed or badly damaged teeth, you may hear from your dentist that you need multiple teeth replaced. This means that the damaged teeth will need to be extracted and you'll need to consider getting a denture, partial or bridge to rebuild your smile. For the best stability and comfort, these restorations should be secured with dental implants. Many patients are hesitant to secure their prosthetic teeth with implants due to the lengthy timeline and recovery of implant dentistry. However, there is a remarkable solution that is now available: All-on-4 dental implants.
Superior Choice in Implant Dentures
All-on-4 implants offer all the benefits of a traditional implant denture while also solving many of the concerns that patients have when it comes to getting dental implants, including the lengthy process.
Quicker Process and Results
All on 4 dental implants is an option that allows patients to remove and replace their damaged teeth in a single day. In the same appointment that you get your teeth extracted, your dentist can also place the 2 to 4 dental implants it takes to attach your full arch of temporary teeth! The procedure is typically done using sedation dentistry so that your comfort is protected at every step. Best of all, you'll never have to walk outside the office with missing teeth – which can be threatening to your self-esteem, your speech and your eating habits.
Easier Qualification
Most patients in good health are candidates for All-on-4 dental implants. In addition, the All-on-4 implants are uniquely designed to anchor to less bone structure than traditional implants. Therefore, patients can often avoid bone grafting, which is especially beneficial for those that suffered bone deterioration from untreated gum disease or prior tooth loss.
More Comfort and Less Hassle Long-Term
Since All-on-4 implants fuse with the surrounding bone, they can prevent jawbone loss just like other types of implants. In addition, All-on4 teeth never need to be relined or refitted because your gums won't change shape over time. With replacement teeth that stay in place, there is also little to no risk of your gums becoming irritated or damaged.
At the office Dr. Wayne Suway, we are prepared to take ample time with you to discuss your options in restorative dentistry. If All-on-4 dental implants sound more appealing to you than traditional implant placement, we can tell you exactly what to expect during and after the procedure. We can even settle your financing plan for you so that you can move forward with confidence. Give your smile a new lease on life with All-on-4 dental implants in Marietta.