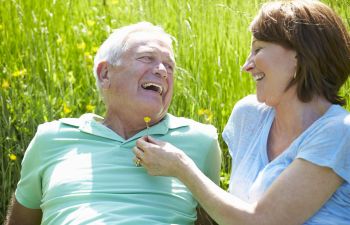 An implant-supported denture, also called an overdenture, is the preferred solution for replacing an entire arch of missing teeth. While a traditional denture can replace the look of multiple missing teeth, the appliance simply rests on the gums and does not always provide the long-term stability and comfort that patients desire. By attaching a full denture to dental implants, the smile can now have maximum security with not only prosthetic teeth but prosthetic tooth roots as well. In doing so, the jawbone can be properly stimulated and bone loss prevented.
An implant-supported denture can be used for the upper or lower arch of the teeth. However, it is more common for patients to choose this type of overdenture for the lower jaw, as it tends to be less stable for regular denture wearers.  A lower denture's instability is often a culprit of the tongue's movement, which dislodges the denture during chewing and speaking.
To qualify for implant-supported dentures, patients must have enough bone structure (both height and width) to support dental implants. Overdentures can be fixed or removable depending on your unique needs and preferences.
Two Types of Implant-Retained Dentures
In general, there are two main types of implant-retained dentures that will each need at least two dental implants attachment.
Bar-retained dentures — A thin curved metal bar is used to attach anywhere from two to five implants. This system will contain clips or locator attachments that will allow your dentures to fit over the bar and clip into place.
Ball-retained dentures (stud-attachment dentures) — On top of each dental implant that was placed in the jawbone is a metal ball-like attachment, also called a "male" attachment. These are designed to fit into the sockets of the "female" attachments that will be located on the denture.
Regardless of which overdenture you choose, you can trust that the attachment piece is discreetly hidden underneath your prosthetic teeth. We understand that replacing missing teeth can be an overwhelming process, especially with the expansive list of options available to you.
 At the office of Dr. Wayne Suway, we will carefully walk you through each step so that you can weigh the pros and cons of each treatment choice. If you have elected to have overdentures, you can feel confident knowing that you've chosen the most superior smile restoration available. Call Dr. Suway in Marietta to learn more.