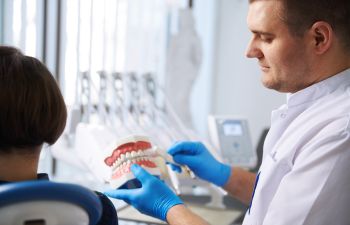 Dentures are a popular choice for many patients who need full arch teeth replacement. While modern dentures offer remarkable comfort and aesthetics, they also require some extra care. Not only do dentures need adhesive cream to be secured each morning, they also demand special cleaning and soaking at nighttime. For the aging adult, this denture care regime and commitment can become cumbersome and difficult.
The Aging Adult and Denture Care
As we age, simple tasks can become challenging. Due to diminishing dexterity, coordination and eyesight, it is not uncommon for oral care regimens to become taxing if not impossible for certain people. Unfortunately, if oral care involves traditional dentures, there are additional steps, extra products and further maintenance guidelines to adhere to. This can be overwhelming for an aging or geriatric patient. Denture care can involve the following:
Tedious application of denture cream to secure them in place
Remembrance to clean and soak dentures at night
Brushing both dentures and gums/existing teeth
Additional denture care products to purchase and use
More dental appointments to attend for relines or adjustments
If dentures are not cared for properly, patients can suffer ill-fitting prosthetic teeth, damaged dentures, stained restorations, gum disease, bad breath and other unwanted issues. Therefore, it is important to find a solution when denture care becomes a task you are unable to do or do well.
When Maintaining Your Dentures Gets to Be Too Much
If handling your dentures and cleaning them each day is a greater hassle and challenge than you'd like it to be, there is an answer. Not all types of dentures need the extra maintenance. Dentures that are secured in place by dental implants can be cared for just like real teeth. While there are some qualifications such as jaw bone density and overall good health, transferring your traditional dentures to implant-supported dentures can be a game-changer for your daily comfort and convenience.

What Are Implant Dentures?
Instead of resting on the gums and being held in place with adhesive cream, implant-supported dentures are anchored into your jawbone using a series of dental implants. Implants are titanium, biocompatible posts that fuse to your surrounding bone and form artificial tooth roots for your dentures to attach. Not only do implant dentures offer improved stability, but they won't need to be removed, soaked or relined like traditional dentures.
Aging adults can benefit from an oral care routine that is more simple and attainable compared to removable dentures. Implant dentures can be treated and care for like your natural teeth, including routine brushing and flossing – which can be performed with electric tools for easier maneuvering.
Losing dexterity does not have to mean losing a confident and clean smile. Call Dr. Wayne Suway to learn more about how you can benefit from implant dentures as you age.