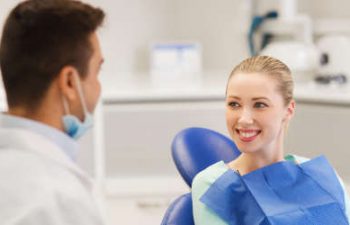 Regardless of how old you are or why it happened, when a permanent tooth goes missing from your smile, a series of setbacks can occur. Since missing teeth can undoubtedly jeopardize the way you look and how you eat or speak, they can also affect your emotional health. It makes sense, therefore, that replacing missing teeth with a high-quality restoration can reverse these setbacks and improve your overall well-being.

Dental implants are the best way to replace missing tooth or teeth. Not only do they look and feel like real teeth, but they are anchored into your jawbone for optimal security and can be cared for just like the tooth or teeth you once had. To further the return on your implant dentistry investment, here are some top emotional benefits you'll gain from choosing this form of tooth replacement.
Improved Appearance
Not only does a dental implant fill in the gap of a missing tooth, but most patients report their dental implant to be indistinguishable from the natural teeth surrounding it. In addition, dental implants are the only tooth replacement option that preserves the jawbone and prevents a sunken or aged appearance in the lower face. This goes a long way towards improving your overall appearance, which in turn boosts your confidence and emotional health as you age!
Immediate Solution
While you may not receive your permanent restoration on the day of your implant surgery, you'll get a customized temporary tooth to close the missing gap. This puts patients at ease knowing they don't have to walk around hiding their smile until their implant has healed and their permanent crown or bridge is ready to be placed. The ability to immediately speak and eat like you have all of your teeth is a leading emotional benefit.
High in Stability and Confidence
If you have multiple missing teeth and choose a traditional denture or bridge, you may still suffer setbacks to your smile confidence. Since these restorations are not surgically rooted in your jawbone like dental implants, they can slip in certain situations or fit poorly over time. With implants, you should be able to eat the foods you love and smile with great confidence knowing that your prosthetic teeth are anchored firmly in place.
Comfortable Feel
Did you know that dental implants actually grow together (or fuse) with the jaw bone to form a strong foundation for your prosthetic tooth or teeth that can last for decades. That means dental implants can feel as comfortable as your real teeth. Most importantly, you can eliminate the emotional stress and toll that comes with ill-fitting prosthetics or avoiding certain foods due to an uncomfortable denture or bridge.
Quality of Life
When emotional benefits combine, it equals an improved quality of life. While it is true that dental implants are a pricier alternative to traditional prosthetics, the value of a better quality of life should never be dismissed. To learn more about the benefits of dental implants, please call Marietta's expert in the field. Dr. Wayne Suway is a caring, highly knowledgeable implant dentist who is ready to complete your smile today!