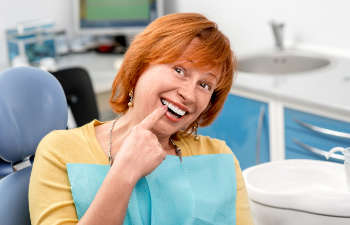 While never a welcome event, many adults will lose a permanent tooth in their lifetime. Failing to replace that missing tooth, however, is a much bigger detriment. A single missing tooth is more than a cosmetic issue. In fact, there are drawbacks to your oral health and overall well-being that you should know if you decline tooth replacement.
What does replacing a single tooth involve? For patients that want the most life-like solution, a single-tooth dental implant is the answer. A dental implant is not only safe and effective, it is also the most long-lasting and natural option in restorative dentistry. When a tooth goes missing, you lose the crown of the tooth (part you see above the gum line) as well as the root of the tooth (the component that is anchored into your jawbone). Unlike a dental bridge or other restorative treatment, a dental implant offers the unique ability to replace both the tooth root and the tooth!
What Happens In Your Mouth After Losing a Tooth
Our teeth certainly serve an aesthetic role in presenting our smile. However, each tooth also serves a purpose in helping us speak and eat. Your tooth has a root that goes deep into your jawbone. As you bite down and chew, your jawbone gets stimulated by your tooth roots. If a tooth is absent, however, the underlying bone can weaken and lose density or form. Therefore, patients who have missing teeth are at high risk for premature facial aging caused by a sunken lower face around the jaw. In addition, the teeth surrounding your missing tooth will migrate towards the empty space. This disrupts the alignment of your smile, which can lead to TMJ problems from a bad bite as well as gum disease and tooth decay due to cleaning challenges. While traditional dentures and bridges can address many of these issues, they are not always enough.
What are Dental Implants?
Dental implants are the most modern and preferred long-term treatments for tooth loss. Implants involve placing a titanium (biocompatible) rod into the hole of the jaw where the missing tooth once resided. After the implant fuses to the surrounding bone as it heals, it can act as a saddle or foundation for an attached dental crown. Crowns are custom fabricated for each patient and designed to seamlessly match the tone and shape of the surrounding natural teeth.
Single-Tooth Dental Implants
While implant dentistry can be used to replace multiple missing or a full arch of teeth, it can also be an excellent solution for just a single missing tooth. In fact, single-tooth dental implants are remarkably successful, especially if performed by an experienced and qualified implant dentist who has first performed a thorough screening process. Patients in good overall health who have healthy gums and adequate jawbone density are typically good candidates for a single-tooth dental implant.
The Long-Term Return on Your Dental Implant Investment
With the correct aftercare, your dental implant should last for your entire life. The crown may last approximately 15 years, but can easily be replaced and repaired when damage or normal wear and tear occur. Most importantly, your new dental implant will allow you to eat, speak and smile with the confidence you deserve.  There are no food restrictions, special cleaning instructions or messy adhesive creams to deal with when you choose a single-tooth dental implant.
Learn more about replacing your missing tooth with Marietta's finest implant dentist. Call Dr. Wayne Suway today.