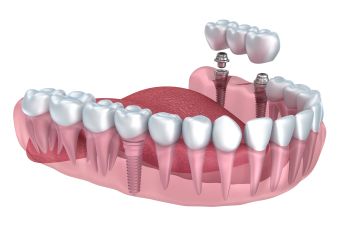 When it comes to unwanted dental problems, tooth loss tops the list. No one enjoys saying goodbye to a natural, permanent tooth. A missing tooth can threaten the appearance of your smile, challenge your ability to eat and speak properly, as well as put you at risk for dental health issues like misalignment, bone loss and frequent cavities. Fortunately, modern restorative dentistry gives us some remarkable solutions for replacing missing teeth. If you are missing a single tooth, there are two primary options to choose from: a dental implant or dental bridge.
What are the key differences between a bridge and an implant? Which one is right for you? Here is some better insight to help you make an informed decision and restore your smile best.
Dental Implants
A dental implant is a small titanium post that acts as your artificial tooth root. The implant is placed surgically in your jaw. As the implant heals, it undergoes a process of osseointegration in which the implant fuses to the surrounding jawbone. This allows the implant to gain strength and stability as it becomes a firm anchor for the restoration that is attached on top. In the case of single tooth replacement, a dental crown is used as the implant restoration.
If you choose a dental implant, you can expect to spend more in upfront cost and time. However, the long-term return on your restorative dentistry investment is superior. A dental implant is meant to last a lifetime and will be the closest replica to your real tooth. Finally, implants are the only way to prevent the bone loss that occurs from missing teeth, which can help preserve your facial structure.
Fixed Dental Bridges
A fixed bridge is a dental prosthetic that is placed in the gap that is left by a missing tooth. Bridges are often made in three main pieces: the artificial tooth (called a pontic) and two dental crowns that are placed on the adjacent teeth to anchor the pontic.
Getting a bridge will require much less time in the dental chair. However, when choosing a bridge, the structure of the anchor teeth on either side of the missing tooth must be altered to support dental crowns. With a dental implant, your surrounding healthy teeth do not need to be touched. However, bridges are typically more affordable than implants and are still an excellent choice for many patients.
Which Solution Is Right for You?
There are no one-size-fits-all solutions in dentistry, especially when it comes to tooth replacement. At the office of Dr. Wayne Suway, we will carefully consider many factors when determining which solution is best for you. Ideally, the decision of getting a dental implant versus a dental bridge should be weighed based on your unique clinical needs, your budget and your personal goals for restorative dentistry. To learn more about the benefits of dental implants versus dental bridges, please call our Marietta office today!