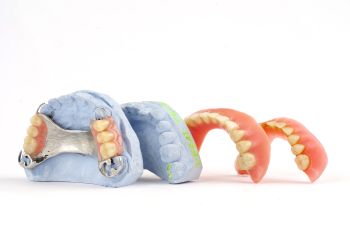 While traditional dentures have come a long way in terms of comfort, appearance and durability, not every patient is fully satisfied. Traditional dentures refer to a full set of prosthetic teeth that rest along the gum line and are held in place by denture adhesive cream. If you have traditional dentures and feel less than confident about a cream anchoring your smile, it may be best to consider implant-supported dentures. 
Implant-supported dentures are just what the name implies. They include a set of upper or lower dentures that are anchored or supported by dental implants. The inclusion of dental implants in your denture investment can make a drastic difference in your short and long-term results.
The Dental Implant Difference
Dental implants are titanium posts that are surgically inserted into your jawbone. Over time, they fuse to the surrounding bone and are able to hold a prosthetic crown, bridge or denture on top. When it comes to dentures, dental implants essentially act as your artificial tooth roots and help you avoid several drawbacks that come with unstable traditional dentures.
Avoid Denture Drawbacks
Traditional dentures that rest along the gum line don't always stay in place like they should. This can affect eating, speaking and overall self-esteem. For the aging adult, these are elements that contribute to quality of life and shouldn't be compromised.
By anchoring your denture with dental implants, you can expect the following:
Dietary Freedom
With the use of dental implants, you can retain optimal stability in your full denture, which means you won't have to avoid hard-to-chew foods. Patients can eat meat, raw vegetables, fruits and other nutrient-dense food choices. This helps you stay healthy and avoid the common dietary trend of traditional denture wearers, which is to stick to a soft-food, high-carb diet.
Social Confidence
Loose or ill-fitting dentures can make you shy away from a dinner party or social event due to the fear of your teeth falling out unexpectedly. With implant dentures, you can enjoy full confidence as you eat, speak and laugh with your family and friends.
Facial Appearance
A less obvious downfall of traditional dentures is bone loss in the jaw when there is a missing tooth root. This can create a sunken appearance in the lower face, known as premature facial aging. Dental implants help patients avoid this by properly stimulating the jaw bone like natural tooth roots.
Easy Maintenance
Last but not least, implant-supported dentures can be cared for just like your real teeth. There are no messy adhesive creams or frequent adjustments/relines to hassle with like you would with traditional dentures. Proper brushing and flossing along with routine trips to your implant dentist is all that is required for most patients.
Do you suffer from ill-fitting dentures? Do you find that your lifestyle or eating habits are restricted due to your prosthetic teeth? Consider dental implants. At the office of Dr. Wayne Suway, we can quickly determine if you are a candidate for implant-supported dentures. Dr. Suway is a renowned implant dentist with a mission to help every patient achieve a beautiful, confident smile at every stage of life.