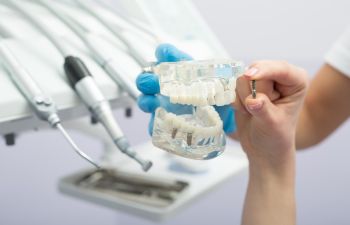 When it comes to finding a dentist to place your implants, it's important to choose wisely. Not all implant dentists are created equal. Many providers will offer implant placement, but not all dentists hold the additional training, skill and experience it takes to ensure a comfortable process and the most successful results.
In fact, you'll find that some dentists earned their knowledge and experience in a short training program or weekend class. Since this is a permanent solution for your smile that we are talking about, why not select the dentist who brings extensive hands-on experience and the most respected training in implant dentistry?
If you are considering dental implants to replacing missing teeth, it's easy to rush the process or seek out the most affordable dentist. However, not doing your homework about your implant provider can be a costly mistake. Implants that fail can result in pain, more expense and frustration.
Ask the Right Questions
One of the best ways to gain knowledge about your potential implant dentist is to simply ask the right questions. Don't be shy or feel like you are prodding. A respected and qualified implant dentist will not only be comfortable answering your questions, but he will appreciate your careful forethought and consideration.
Use your implant dentistry consult as an interview and ask these questions:
How long will the implant process be for me?
What types of anesthesia options do you offer?
How many implant procedures have you performed?
What technique would you recommend for my implant?
Can you provide your specific training, education and qualifications in implant treatment?
What is your success rate?
Can I view before-and-after photos of former patients?
Do you have advanced dental imaging onsite?
Do you offer bone grafting, sinus lifts or other additional procedures should I need them?
What types of implants do you offer? (Same Day Implants?)
What is the cost of implants at your office? Do you have financing plans available?
Schedule Your Consult with Marietta's Finest Implant Dentist
At the office of Dr. Wayne Suway, we welcome your questions and concerns. We will allow ample time to provide the information you need to feel comfortable and confident as you begin the implant process with us. You'll quickly discover that Dr. Suway is exceptionally talented, qualified and experienced in his field!