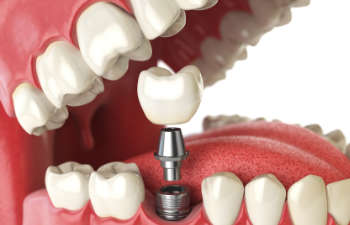 There are many ways to restore and replace a tooth. Dental implants, however, are superior in comfort, functionality and aesthetics. Dental implants can replicate a natural tooth better than any other restorative option because it offers an artificial tooth root. To fully understand and appreciate the benefits of an implant, you must learn about osseointegration.
What is Osseointegration?
Osseointegration is the key to implant dentistry success. It involves a very natural process that in which the titanium implant post fuses to the surrounding jawbone after it was surgically inserted. Osseointegration takes place during the first 3 to 6 month healing period following your implant surgery. But what happens beneath the (gum) surface is quite remarkable and is the distinguishing factor of dental implants.
A dental implant is made of titanium alloy, which is biocompatible and highly durable. After it is surgically placed in the jawbone, your body responds with osseointegration. During this process, the titanium implants fuse into living bone. In other words, bone cells begin to grow into the surface of the implant. This continues until the implant is so fully consolidated and bonded to the surrounding bone that it can function as a sturdy tooth root. In some cases, the bond is stronger than a real tooth root!
Advantages of Implant Dentistry
The process of osseointegration means a lot for your new smile. In fact, it is the reason for the following implant benefits:
Long lifespan, a permanent teeth replacement option
Durable for everyday dental function (dietary freedom)
Becomes part of the body (not an add-on like veneers, etc)
Prevents and even encourages bone growth in the jaw
No extra maintenance required
Used in single tooth replacement or full mouth reconstruction
Ready to learn more about dental implants? Call Dr. Wayne Suway. We are happy to explain the full dental implants process and what you can expect in terms of timing and recovery.