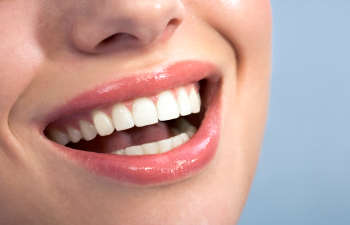 White teeth project health, beauty and youth. Since everyday eating habits can make it difficult to keep your smile free of stains and discoloration, it is understandable why professional teeth whitening is the most popular cosmetic dental service. While most patients make good candidates for teeth whitening, it is important that you know what to expect if you have fake teeth or dental restorations.
When it comes to crowns, veneers, dental implants and bridges, the timing and order of your teeth whitening becomes important. For best results and a seamless smile, whiten your natural teeth before getting dental restorations if possible. Even though modern dental materials are a close replica to natural teeth, they do not always respond to teeth whitening the same way that your real teeth do. Various dental materials, such as porcelain or ceramic, may not only fail to whiten, but they may also become damaged by a professional whitening treatment. This is especially true if your dental restoration is old, leaky or surrounded by decay.
By not letting a dentist oversee your whitening treatment, you may be subject to sensitivity, burning or tissue irritation from over-the-counter whitening products. Don't worry; some superficial (or surface) stains on crowns or tooth colored fillings may be safely removed by DIY teeth whitening. But, you should always consult with your dentist first to ensure your whitening regime isn't covering up a dental health problem or doing more harm than good.
Can You Still Get a Brighter Smile with Fake Teeth?
Fake teeth won't drastically change their shade or colors once they have been placed inside of your mouth. The porcelain or resin material are custom-fabricated to match the color of your surrounding teeth. While superficial food and drink stains may accumulate, your fake teeth won't stain like your real teeth. This is why it is important to get your natural teeth the shade you want before you get your crown, bridge or filling.
However, if you already have a dental restoration and would like to change the shade of your smile – you do have options. You may want to consider replacing your fake teeth to match your whitened tooth enamel. As long as all of your crowns, fillings or other restorations are in good condition, we can brighten your smile to meet your goals and then replace the restorations afterwards.
Teeth whitening is temporary. This means that you'll need to be smart about preserving your bright smile after your teeth whitening treatment. Touch-up whitening sessions are always an option throughout the year, but you can extend the lifespan of your whitening investment by avoiding dark-colored foods and drinks and not using tobacco products. If you must have that morning cup of coffee, consider using a straw or sipping water after you drink.
Learn more about teeth whitening with fake teeth from one of Marietta's most trusted restorative dentists. Call the office of Dr. Wayne Suway today.