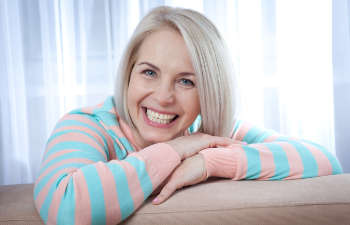 When it comes to replacing a full arch of teeth, dentures are the chosen solution. However, there are different types of dentures available. While it requires more upfront investment and time, modern dentistry offers a superior solution with dentures that are anchored with dental implants. Unlike dentures that adhere to the gum line using adhesive creams, implant supported dentures are firmly attached into the jawbone with implants – just like your real teeth!
There are various reasons why a person might consider implant supported dentures. If you have missing teeth and can say yes to the following, you may be a candidate:
Desire for Greater Stability?
Traditional dentures can make it difficult to chew certain foods, such as fruit, steak and fiber-rich vegetables. Patients may also feel self-conscious when laughing and speaking due to fear their dentures will slip or fall out. If you want to have confidence in the stability of your dentures, an implant supported version is the way to go. Since the implants fuse to the underlying bone, they act as tooth roots and will help make sure your dentures don't slip and slide during eating or talking.
Want More Convenience?
Implant supported dentures can be cared for like your natural teeth, with regular brushing and flossing and routine trips to the dentist. There are no messy adhesive creams or denture relines/adjustments to worry about with implant dentures!
Want to Avoid Premature Facial Aging?
One of the less considered factors of not using implants to replace missing teeth is bone loss. When there is no tooth root (or implant post) to stimulate the cells of the jawbone, the bone loses its density and form. Consequently, the shape of the lower face can change, which often includes a sunken appearance that makes patients look much older than they really are.
If you are interested in implant supported dentures, we invite you to come in for an evaluation and accurate determination of your candidacy with Dr. Wayne Suway.