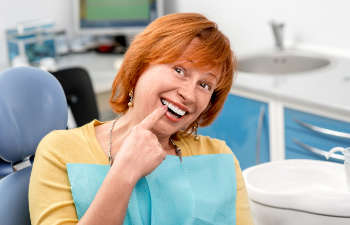 If you have done some research on modern implant dentistry, you have likely run across the term "guided implants." Guided implants do not suggest a different type of implant. Instead, it defines the way the implant is surgically placed. Guided implants have the added benefit of using advanced imaging technology to "guide" the dentist as the implant is inserted into your jawbone. Not all dentists offer surgically guided dental implants, but here's a closer look at why it can be important.
Guided implants rely on the innovative technology of an on-site CT Scanner that projects real-time 3D images of your mouth on a nearby monitor. A 3D CT Scan can show precise images of the jaw, teeth, tissues, nerves and sinuses that surround the site of the implant placement. With such key information, your dentist can place the implant in the most strategic and successful way. In most cases, this means inserting the titanium post in the densest area of the jaw and away from any nerves or sinuses that would cause complications if compromised. Guided implants allow your dentist to have a custom fabricated surgical guide or template for your oral surgery.
Choosing a dentist who offers CT scanning and guided dental implants can greatly increase the precision of your procedure. In turn, this allows for a greater success rate, less invasive surgery and better recovery. It can also save you money, as other dentists requiring patients to seek this imaging service outside their office puts more expense and waiting time on the patient.
Each patient has a unique smile. Therefore, when replacing missing teeth, it makes sense to utilize the best imaging technology in modern dentistry so that we can account for every distinct detail of your mouth and customize your new smile accordingly. At the office of Dr. Wayne Suway, we proudly offer surgically guided dental implants using CT Scanning technology. Learn more by calling our Marietta office today.