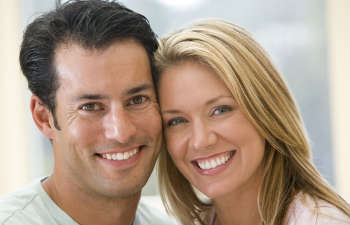 Do you have loose or missing teeth? We know it can be a significant threat to your self-confidence and quality of life. Fortunately, modern implant dentistry can offer a life-like replacement of your lost or damaged teeth so that you can regain that beautiful smile you once had. Getting dental implants, however, does require a notable investment and patience, so it is understandable why you may want to get all of the information you can upfront. Here are some Frequently Asked Questions from patients who are considering the idea of getting dental implants:
Am I a good candidate for dental implants?
Dental implants do require adequate jaw bone density and good overall health to support healing after your surgery. If you can identify with the following, implant dentistry may be right for you:
You have one or more missing teeth
You have difficulty chewing
You have loose teeth
You have loose denture teeth
You have dental bridges that get a lot of food trapped under
You are a non-smoker
How many procedures do I have to go through to get implants put in?
This all depends on your unique situation. If you need teeth extracted and meet the clinical requirements of immediate implant dentures, we may be able to remove your damaged teeth and place your implants in the very same day. However, you may require a period of healing if you have an infection that needs to be cleared first or you may have to get bone grafting before your implant surgery if you have previously suffered bone loss in your jaw. A more accurate timeline can be provided for you at your consultation.
Will implant surgery be painful?
Thanks to modern imaging and sedation dentistry, we can place implants with remarkable precision and little to no discomfort. Any pain after the procedure can typically be managed very well with over-the-counter pain relievers.
Why should I choose a dentist who specializes in implants?
Most modern dentists offer dental implant placement. However, only an implant dentist has undergone additional years of training after completing 4 years of dental school. Dr. Wayne Suway is a Diplomate of the International Congress of Oral Implantology and an Associate Fellow of the American Academy of Implant Dentistry.
How long will my implants last?
If your implants are placed by an implant specialist, they should last you a lifetime!
What is the maintenance requirements of dental implants?
Dental implants can be cared for just like your real teeth! However, it is strongly suggested that you follow your dentist's recommendations for routine checkups, as you may need to be monitored more closely for oral health issues and signs of implant failure.
At the office of Dr. Wayne Suway, we value the investment you have made in your smile, and we will do everything we can to help you keep your dental implants in optimal condition for a lifetime. To schedule your consult, please call our Marietta office today.