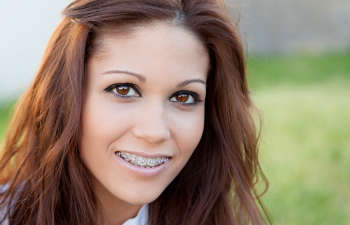 Braces and dental implants are used for very different dental concerns. Braces are designed to straighten your teeth while dental implants are used to permanently replace teeth where biological teeth have been lost due to trauma, infection or excessive decay. It is not uncommon, however, for teens and adults to have both missing and misaligned teeth and thus need orthodontic treatment as well as implants dentistry. If are someone who needs both types of treatments, here's some FAQs to help you understand what to expect.
Should I get braces or dental implants first?
While it is absolutely possible straighten your smile as well as replace missing teeth, there is a firm answer in terms of the order in which these two treatments should occur. If you need both orthodontics and dental implants, it is almost always recommended to have braces fitted first. Once an implant is permanently placed into the jawbone, it cannot move or shift like a biological or regular tooth.
What if I already have implants and I need braces?
Dental implants are one of the most effective options in teeth replacement, and they carry a remarkable success rate. Many adults regain a complete smile thanks to dental implants, but may later find that they need orthodontic treatment to align crooked teeth or gapped teeth. It is possible to have braces after you have received an implant, but you should know that braces can't shift the position of dental implants like they can shift the position of your natural teeth.
Can a retainer be worn with implants?
In nearly all cases of orthodontic treatment, the patient is required to wear a retainer. However, unlike braces, it is perfectly fine to wear the retainer while having implants because the retainer is used to simply hold the teeth in their new current position rather than move them. In fact, not wearing your retainer and allowing your teeth to migrate back to their original position has more risk of harming the implant.
If I have a child who has completed orthodontic treatment, can implants now be placed?
It depends on the age of your child. This is important because dental implants should not be surgically placed until the jaw has finished growing. Only x-rays can confirm this, but jaw growth is typically complete around age 14 or 15 for girls and age 17 for boys. Therefore, if you child is under these age requirements, it will be necessary to wait for implants.
Have more questions surrounding implant dentistry and orthodontics? We are here to help. Call the office of Dr. Wayne Suway in Marietta today.