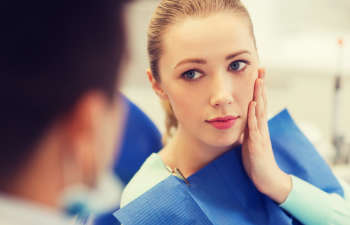 Dental implants carry a success rate of over 95%! However, implants are not immune to problems. While most types of implant issues involve the restoration on top of the implant and are easily corrected, there are times in which the implant itself suffers failure. A skilled implant dentist can prevent the majority of these implant complications with precise, computer-guided implant placement as well as bone or gum grafting done before the surgery when necessary. Unfortunately, not all implant complications can be avoided.
Here are some common reasons why patients may need implant repairs:
Failed Osseointegration
After the implant post is surgically placed into the jaw bone, the next few months are critical. This is the time in which the implant heals and fuses to the surrounding bone through a process called osseointegration. However, when this fusion fails to properly complete, the connection between the implant and the jaw becomes weak and patients may start to experience chewing difficulties, discomfort and a loose implant.
Insufficient Bone Density
While this can often be predicted before implant surgery, there are times in which bone density is compromised after implant surgery. For example, patients with osteoporosis may take prescribed oral bisphosphonates, which can interfere with proper bone healing after the implant is placed. Always let your dentist know about your medication use upfront.
Infection
When an implant or area around the implant becomes infected, it is called peri-implantitis. Sadly, just like other oral infections and diseases, this can lead to the destruction of bone and tissue that is supporting the implant. Thus, the dental implant may lose stability. Smoking, diabetes, a poor immune system, thin gums and poor oral hygiene can contribute to peri-implantitis.
Since peri-implantitis requires early intervention for the most conservative treatment, it is important to watch for signs such as abnormal bleeding, red or purple-ish gums, pus near the implant, a bad taste, loose crown/implant, gum pain and foul breath odor.
Other Rare Complications
While very rare, it is possible for the body to reject an implant or produce an allergic response. In addition, trauma, external force and extreme pressure may also cause the implant to fracture or weaken. Again, modern implants are made of remarkably strong materials so this is not common.
Marietta Implant Repair Dentist
If you have experienced changes in the way your dental implant looks, feels or functions, let us know as soon as possible. Most importantly, don't ignore your routine dental checkups, as many implant complications do not produce early symptoms and only can be detected on a dental x-ray. Dr. Wayne Suway is an esteemed implant dentist who can not only place implants but successfully repair them if the unfortunate event should occur.